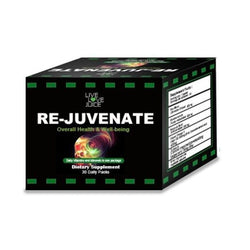 LiveLoveJuice
RE-JUVENATE - DAILY VITAMIN PACKS
RE-JUVENATE vitamin and minerals pack. "The Chakra Collection" (heart)
ALL ORDERS TAKE 3-7 BUSINESS DAYS TO SHIP
For: Overall health & Well-being
30 Daily Packs
The RE-JUVENATE Pack includes:
Sea Moss - 92 out of 102 minerals that the body is made of. Alkaline multivitamin. (500mg)
Bladderwrack - Thyroid and inflammation support. (500mg)
Burdock Root - Blood purifier, helps in detoxification, joint health. (500mg)
Vegan Omega 3 - Provides DHA support to help cardiovascular, brain & eye health. (400mg) (100mg)
Tumeric - Anti-inflammatory & Antioxidant, heart, brain, liver and joint health. Pain reliever. (500mg)
 *These statements have not been evaluated by the Food and Drug Administration. This product is not intended to diagnose, cure, treat or prevent any disease.
RE-JUVENATE - DAILY VITAMIN PACKS
Fire Herbs 🌿 🔥🔥
First and foremost all Glory and honor Goes to my Lord and savior Jesus Christ but I've been taking these for years i took these when i caught covid twice and they were very resourceful thank God
Great products
Great customer service and great products
Amazing
This vitamins are Just Amazing 😍
Customer Reviews
Great product
I love the products. They work very well
08/29/2022
Jon F.

United States
Review
I love the product but it always is sold out.... I've been trying to buy some for 2 weeks now‍♂️
06/16/2022
Debbie D.

United States
WONDERFUL
This vitamins are truly Wonderful