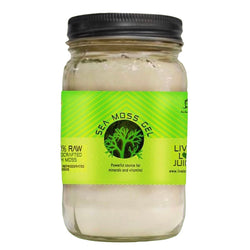 LiveLoveJuice
16 OZ SEA MOSS GEL
100% raw wildcrafted Irish moss ( with Spring Water).
Keep refrigerated
ALL ORDERS TAKE 3-7 BUSINESS DAYS TO SHIP
Sea moss, also known as Irish moss (or Chondrus Crispus) is a seaweed that is composed of 92 out of 102 minerals that the body is made of.
It contains many vital nutrients that can improve digestion, increase metabolism, boost immunity and so much more. Some of those nutrients include bromine, sulfur, calcium, iodine, magnesium, phosphorus, phosphate, manganese, potassium, beta-carotene, selenium, protein, pectin, zinc, vitamin-C and B-vitamins.

Boosts & Supports Your Immune System
Improves Thyroid Function
Nasal Congestion Relief
Improves Emotional Health & Alleviates Depression
Increases Energy Levels
Skin Nourishment
*Caution: Always do research and consult a physician before beginning any supplement. This information is for educational purposes only.
These statements have not been evaluated by the Food and Drug Administration. This product is not intended to diagnose, cure, treat or prevent any disease
My Sea Mosss
Only thing I can Say Is I Love It and in the works for buying more stuff
I Love this product 💚
Amazing stuff! This should be in everyone's refrigerator. I'm hooked for life. Try it, you won't regret it!
The absolute best
started ordering a few years ago...fell off and now I'm back on!!!
Customer Reviews
03/01/2023
Dante A.

United States
01/02/2023
Neikata C.

United States
Broken product
When I finally received the product, it was broken. I sent an email and pictures of the damaged products, I never received a response.
10/17/2022
Tiffany W.

United States
Miracle cure all
I love this store and everything it represents. A new life long customer.