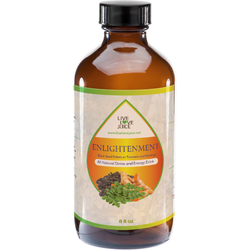 LiveLoveJuice
ENLIGHTENMENT
Black Seed Bitters w/ Turmeric and Moringa
All Natural Detox and Energy drink
ALL ORDERS TAKE 3-7 BUSINESS DAYS TO SHIP
*refrigerate upon arrival
8 fl oz
Ingredients:
Black seed, moringa, turmeric, sea moss, cayenne, garlic, ginger, gin Kona, chenney root, kelp, maca, distilled water, dandelion, ginseng, flax seed, bitter gourd, sage, raw moon bark, açaí.
Use:
2 tbls twice a day. Morning and Night after meals.
This detox bitter promotes healthy digestion while protecting the body's cells and organs. It also helps to regulate the metabolism, balance insulin levels, regulate cholesterol, improve blood circulation and improve liver health.
Adding this bitter as part of your diet will provide benefit by reducing toxins, increasing antioxidants, enhancing digestion, boosting immune and purifies the blood.
Purposes:
Asthma

Arthritis

Memory

Diabetes

High Blood Pressure

Fibroids

Cancer

Loss of Appetite

Kidney & Liver Support

Aches and Pain

Leukemia

Hepatitis

Healthier Skin
*Please keep in mind that this product is a Bitter
CAUTION: Keep away from children. Not for use during pregnancy, breastfeeding or menstrual cycle. Keep refrigerated after opening. Shake well before using.
Always do research and consult a physician before beginning any supplement.
These statements have not been evaluated by the Food and Drug Administration. This product is not intended to diagnose, cure, treat or prevent any disease.