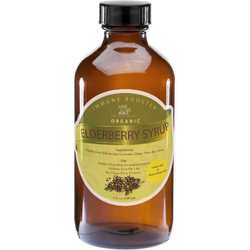 LiveLoveJuice
ELDERBERRY SYRUP
Elderberry Syrup
ALL ORDERS TAKE 3-7 BUSINESS DAYS TO SHIP
8 fl oz
*Upon receiving your Elderberry Syrup - please make sure to Shake Well & Refrigerate!
Shelf life : up to 3 months
Organic Ingredients: Dried elderberries, Raw Honey, Ginger, Clove & Cinnamon.
Elderberry syrup is a long-standing & well-loved natural remedy for the common cold, flu and sinusitis symptoms.

Black Elderberries are widely known for their immune boosting & anti-viral properties. This powerhouse of antioxidants can help support the body through issues such as the common cold, influenza cough and allergies.

Elderberry is beneficial to the respiratory system by protecting and supporting the upper respiratory tract. Elderberry helps to reduce the swelling in mucous membranes, addresses difficulties related to sinus drainage. Elderberries also act as a mild anti-inflammatory.

Ginger Root has powerful anti-inflammatory, analgesic, antibacterial and anti-viral properties. Ginger can help ease pain in the body, reduce irritation/inflammation or other discomforts caused by a cold or flu.

Clove can help boost the immune system and help aid in digestion.

Cinnamon is high in antioxidants, and has both antibacterial and anti-inflammatory properties.

Raw Honey contains anti-bacterial, anti-viral, and anti-microbial properties. Honey soothes the throat and acts as a cough suppressant.

*Caution: Always do research and consult a physician before consuming any herbs.

These statements have not been evaluated by the Food and Drug Administration. This product is not intended to diagnose, cure, treat or prevent any disease.