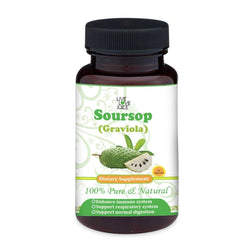 LiveLoveJuice
SOURSOP (GRAVIOLA) CAPSULES
Soursop ( graviola)
ALL ORDERS TAKE 3-7 BUSINESS DAYS TO SHIP
Contains: 30 capsules
100% Pure & Natural

Ingredient: 100% Soursop graviola leaves 300mg
Other Ingredients: Vegetable capsules
Suggested Usage: As a dietary supplement, adults take 1 ( one) daily with water
✅ Enhance immune system
✅ Support respiratory system
✅ Support normal digestion

Soursop is high in vitamin C, an antioxidant known to boost immune health. The vitamin strengthens your immune system, improving its ability to defend against pathogens.
Contains No: Artificial Preservatives, Colors, Flavors or Sweeteners, Sugar, Milk, Lactose, Wheat, Yeast, Fish or Sodium
*Caution: Always do research and consult a physician before beginning any supplement. Consult a healthcare professional before taking this product if you are pregnant or nursing.
Store in a cool, dry place.
*Keep out of reach of children.
*These statements have not been evaluated by the Food and Drug Administration. This product is not intended to diagnose, cure, treat or prevent any disease.
I take this daily and I've seen a significant difference in my overall gut health. Definitely need to order more!
COVID
After COVID hit me hard I needed something that would help restore my appetite and energy. This soursop helped I'm such a. Short amount of time. I'll be ordering more!