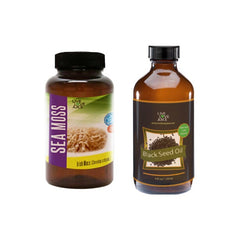 LiveLoveJuice
HEALTHY LUNGS BUNDLE
Bundle contains:
Sea Moss capsules (30ct)
Blackseed Oil
Black Seed - is used for treating digestive tract conditions including gas, colic, diarrhea, dysentery, constipation, and hemorrhoids. It is also used for respiratory conditions including asthma, allergies, cough, bronchitis, emphysema, flu, swine flu, and congestion. Great bundle for smokers.
Super antioxidant for Immune Support, Reduce inflammation, Joints, Digestion, Hair & Skin
Sea moss - composed of 92 of the 102 minerals of which the body is made of. Helps remove mucus & phlegm.