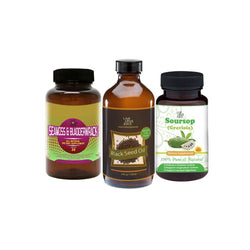 LiveLoveJuice
HEALTHY IMMUNE BUNDLE
Bundle contains:
Blackseed Oil
Sea Moss & Bladderwrack capsules (30ct)
Soursop capsules (30ct)
Black Seed - is used for treating digestive tract conditions including gas, colic, diarrhea, dysentery, constipation, and hemorrhoids. It is also used for respiratory conditions including asthma, allergies, cough, bronchitis, emphysema, flu, swine flu, and congestion.
Super antioxidant for Immune Support, Reduce inflammation, Joints, Digestion, Hair & Skin

Sea Moss & Bladderwrack - Sea moss composed of 92 of the 102 minerals of which the body is made
Bladderwrack is also a seaweed known as "fucus". Helps in treating thyroid disorder, aids in weight loss and reduces obesity, helps to reduce inflammation and pain, reduces risk of stroke and heart attacks, aids in preventing cancer, gives relief from bloating and cramping.
Soursop - Full of vitamin C. Helps strengthen the immune system, support respiratory system and normal digestion.

*Caution: Always do research and consult a physician before beginning any supplement. This information is for educational purposes only. Avoid intake of bladderwrack if suffering from hyperthyroidism or bleeding disorder.
These statements have not been evaluated by the Food and Drug Administration. This product is not intended to diagnose, cure, treat or prevent any disease.