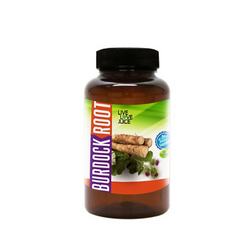 LiveLoveJuice
Burdock Root Capsules
Contains 30 vegetable capsules, approx. 500mg
Take 1 capsule daily at anytime
Burdock Root is a vegetable that helps in detoxification, skin health, benefits to the gastrointestinal tract, beneficial for excretory system, improves digestion, joint health, controls diabetes, regulates blood pressure, helps fever and headaches
A Final Word of Warning:
Be sure to consult a doctor before adding it to your health regimen. Also, for those people using potassium-sparing diuretic therapy, eating too much burdock (with its significant levels of potassium) may aggravate the system and result in potassium toxicity. As always, everything should be consumed in moderation. Stay hydrated when taking this root!
These statements have not been evaluated by the Food and Drug Administration. This product is not intended to diagnose, cure, treat or prevent any disease.
Customer Reviews
Burdock root
I really like it especially in combination with the other herbs I purchased. Taking my daily regiment makes me feel healthier resulting in increased energy, improved digestion processes.