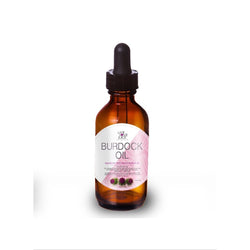 100% Natural Burdock Oil (Concentrated in Grapeseed Oil)
ALL ORDERS TAKE 3-7 BUSINESS DAYS TO SHIP
Burdock oil assists in reducing scalp itching, redness and other problems, as well as promotes hair growth
Burdock Root Oil Uses

• Psoriasis, Age spots, Sunburns, Eczema, Dry and Damaged Hair, Skin Moisturizer, Stretch marks and Massage Oil
Two ways to use: (1). just apply it evenly to the scalp and hair, put a shower cap on and leave oil for 20-30 minutes, rinse thoroughly (depending on hair texture).

 


(2). use the burdock oil 2-3 times a week (depending on hair texture) on the scalp for at least a month to see your hair transform and restore.
Apply to skin where needed.
*These statements have not been evaluated by the Food and Drug Administration. This product is not intended to diagnose, cure, treat or prevent any disease.
Just what I needed
I was visiting a pop up shop and purchased This product its Amazing I was surprised at how good is smells. I love the way it makes my skin feel