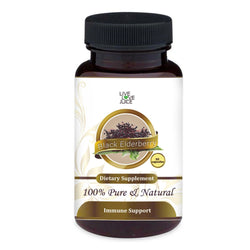 LiveLoveJuice
BLACK ELDERBERRY CAPSULES
Black Elderberry capsules
ALL ORDERS TAKE 3-7 BUSINESS DAYS TO SHIP
100% Pure & Natural
Contains: 60 capsules
Ingredient: Elderberry Fruits (Sambucus nigra) 400mg
Other Ingredients: Vegetable (capsules)
Suggested Usage: As a dietary supplement, take 1 - 2 capsules daily with meals.
 Extra strength immune support
Elderberries are widely known for their immune boosting & anti-viral properties. This powerhouse of antioxidants can help support the body through issues such as the common cold, flu, cough and allergies.
Contains No: Artificial Preservatives, Colors, Flavors or Sweeteners, Sugar, Milk, Lactose, Wheat, Yeast, Fish or Sodium
*Caution: Always do research and consult a physician before beginning any supplement. Consult a healthcare professional before taking this product if you are pregnant or nursing.
Store in a cool, dry place.

*Keep out of reach of children.
*These statements have not been evaluated by the Food and Drug Administration. This product is not intended to diagnose, cure, treat or prevent any disease.