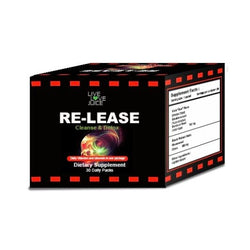 LiveLoveJuice
RE-LEASE - DAILY VITAMIN PACKS
RE- LEASE vitamin and minerals pack. "The Chakra Collection" (root)
ALL ORDERS TAKE 3-7 BUSINESS DAYS TO SHIP
For: Clease & Detox
30 Daily Packs
The RE-LEASE Pack includes:
Irish "Sea" Moss (Chrondus Crispus), Bladderwrack (Fucus vesiculosus), Burdock Root (Arctium lappa)
700 mg

Black Walnut Hulls, Wormwood, Clove
380 Mg

Combination of Sea Moss, Bladderwrack and Burdock Root- 92 out of 102 minerals that the body is made of. Alkaline multivatimin. Thyroid and inflammation support. Blood purifier, helps in detoxification, joint health.

Combination of Clove, Wormwood and Black Walnut hull - helps to cleanse the gastrointestinal track from parasites. It is an intestinal anthelmintic and useful in hepatobiliary ailments. They are also nutrient and rich of antioxidants.
These statements have not been evaluated by the Food and Drug Administration. This product is not intended to diagnose, cure, treat or prevent any disease.