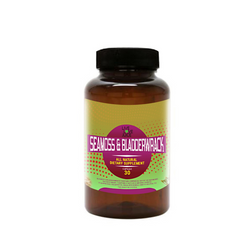 LiveLoveJuice
SEA MOSS & BLADDERWRACK MIX CAPSULES
Contains 30 vegetable capsules, approx 500 mg
Take 1 - 2 capsule at anytime
ALL ORDERS TAKE 3-7 BUSINESS DAYS TO SHIP
Sea moss composed of 92 of the 102 minerals of which the body is made
Bladderwrack is also a seaweed known as "fucus". Helps in treating thyroid disorder, aids in weight loss and reduces obesity, helps to reduce inflammation and pain, reduces risk of stroke and heart attacks, aids in preventing cancer, gives relief from bloating and cramping.
Sea Moss when mixed with Bladderwrack, becomes a powerful diuretic and will encourage bowel movement. The dual effect of the cleansing and replenishment of the combination makes it ideal to someone looking to be in better health.

*Caution: Always do research and consult a physician before beginning any supplement. This information is for educational purposes only. Avoid intake of bladderwrack if suffering from hyperthyroidism or bleeding disorder.
These statements have not been evaluated by the Food and Drug Administration. This product is not intended to diagnose, cure, treat or prevent any disease.
I have been taking the seamoss and bladderwrack capsules faithfully! LIFE CHANGER! Thank you for such an amazing supplement!
Immunity in a bottle! I take this every morning, and I feel amazing throughout the day!!!
Never even received a product. What a joke.
The best
I'm so thankful I have discovered this. Much energy and my skin is glowing.